Your AAHA-Accredited Veterinarian Near Staunton, VA
At Animal Hospital of Waynesboro, our veterinarians and team strive for excellence in all we do, from routine exams to complex surgeries to customer service. Our pets deliver us unconditional love day in and day out, and for that, we think they deserve the very best care we can give them. Your pet's health and safety are our top priorities and we work hand-in-hand with you to deliver personalized veterinary medicine.
Animal Hospital of Waynesboro is located in Waynesboro, VA, a short 20 min drive away. To reach us, take US-250 East and when you reach Waynesboro, we'll be on your left immediately before the Dunkin Donuts.
Full-Service Veterinary Care Performed with Excellence and Compassion
Our full-service animal hospital near Staunton offers every service your pet needs to stay healthy from puppy and kitten-hood through their golden years. Plus our staff are deeply compassionate toward pets, and work to make every vet visit a positive one for all involved!
Veterinary services we offer include: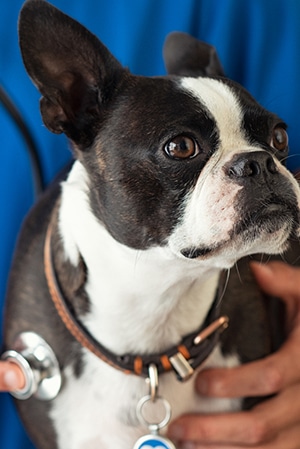 Helping Pets Get Back on Their Feet with Rehabilitation and Therapy
One of our defining services is our rehabilitation and therapy services. Whether your pet suffered an injury, has developed arthritis in their old age, or is recovering from orthopedic surgery, we offer extensive rehab and therapy services so they can get back to full mobility! These services include:
Therapeutic exercise
Hot and cold therapy
Therapeutic ultrasound
Massaging and stretching
Laser therapy
Muscle-building programs
And more
Meet Our Veterinarians Near Staunton
Our veterinarians serve Staunton, VA pets with the highest standards in veterinary medicine. Our owner and veterinarian, Dr. Gregory Lorenz leads our talented team toward excellence in all we do. Our vets have special interests in different areas of veterinary medicine including rehabilitation, internal medicine, orthopedic surgery, and more. Make an appointment today to meet our talented crew and join the Animal Hospital of Waynesboro family!

Everyone at AHW is helpful and knowledgeable. I always feel my fur baby is getting the best care possible!
- Brenda 
We are continually impressed with the level of care given to our pets. Any issue is addressed, every question is answered and we couldn't be happier with Dr. Reinhard and the support staff as well.
- Stefanie 
Great job as always! Dr. Lorenz, the receptionists, and the technicians are very helpful, caring, and friendly. Our senior pup, Abby, had some health issues this year, and she received the best care from Dr. Lorenz and his staff. Thank you for your excellent service!
- Barbara 
Everything is so well coordinated from appointment reminders to check-in, to efficient and welcoming vet tech interaction, to expert and friendly vet consult, to bloodwork, to check out. Seamless. Just incredible considering relentless pandemic issues and weather. The folks at AHW really put their whole hearts into genuinely caring for pets and working as a highly coordinated team. Wow!
- Kathryn 
AHW is wonderful. The vets and staff are friendly and professional. The care our dogs receive is the best we've ever had. We wouldn't take them anywhere else. Thank you to everyone at AHW for all that you do!
- Martha 
Great visit, as always! Super efficient front desk staff, always so friendly…one of the reasons I love this animal hospital! Dr. Ward was excellent, I really enjoyed her thorough explanation of what was going on with my dog and her bedside manner. I left feeling calm and prepared!
- Victoria 
We have been a client for over 20 years and would not trust another veterinarian to take care of our pets. The team is the very best!
- Lianne 
AHW is wonderful. The vets and staff are friendly and professional. The care our dogs receive is the best
we've ever had. We wouldn't take them anywhere else. Thank you to everyone at AHW for all that you
do!
- Martha
Your team is great! So glad we have you in town.
- Mark 
Dr. Weeks has been absolutely amazing with our dog. The care she gave him went way beyond what I expected. I was surprised at the fact that she was the one to call and keep us informed about everything going on. I've never experienced that at any other vet. I have to say the cost of everything was very fair in my opinion. We would like to thank Dr. Weeks and the Animal Hospital of Waynesboro for everything.
- Troy 
This was the pups first visit to the clinic. They came highly recommended and didn't disappoint! The Dr was great and the tech took the two under her wing and showed them off to staff and others and even gave them a complimentary nail trim! I am really looking forward to becoming a long term client! Excellent!
- Tammi 
Everyone from the front desk to the vet technicians to the doctor were amazing! We love this practice and appreciate Dr. Lorenz and all the care he has given all our animals, past and present!!
- Mark 
Best service and the most friendly people! Our doctor was awesome and our boy is happy and healthy!
- Jada 
Y'all are just the best! Your whole team is friendly, courteous, and helpful. Pros and cons are explained about possible treatments. Very pleased!
- Nancy 
Dr. Fulton and the whole staff are wonderful!
- Marilyn