Pet Boarding for Dogs and Cats in Waynesboro
If you are a current client of Animal Hospital of Waynesboro and need to temporarily entrust your pet into someone else's care, contact us about our cat and dog boarding services. Animal Hospital of Waynesboro offers a clean, safe, and comfortable space where both dogs and cats can receive attentive care from our team and medical attention (if needed) from our veterinarians.
At this time, pet boarding services are only available for established clients.
Looking for a capable team to manage your pet's needs while you're away?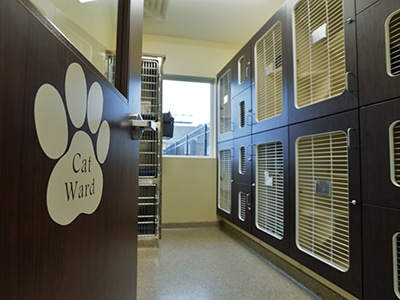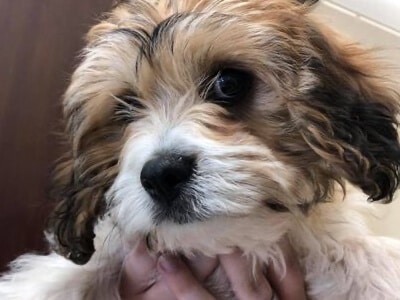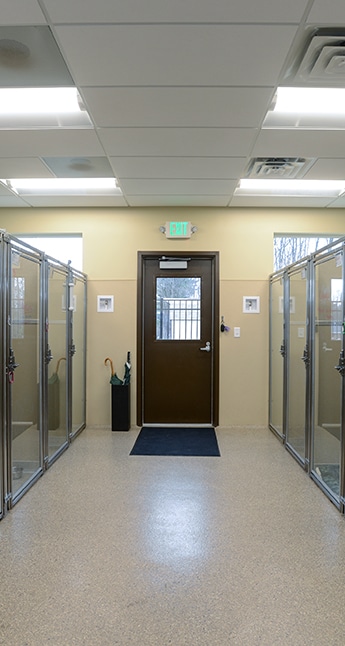 Features of Our Cat and Dog Boarding Facilities
We aim to keep our guests comfortable and occupied as much as possible while they're with us.
Each guest always has fresh water nearby and clean, stainless-steel bowls
Soft, clean bedding is replaced daily
Dogs and cats have a separate boarding wing to help reduce stress
Cat condos include a shelf to perch on and a separate area for their litter box
All dog runs have Plexiglass doors for looking out
We have an outdoor, fenced yard where dogs can stretch their legs and get some exercise during their stay
We offer post-op boarding and medical boarding for pets with chronic health issues
Our animal hospital provides quality food to prevent stomach upset in dogs and cats. However, if your pet is on a specific diet for their health, please bring it along. Food should be stored in a sealed container, such as Tupperware or a Ziploc bag.
If your pet takes medication, bring it in its original container(s). Both food and medication need to be labeled with your pet's full name and clear instructions. Finally, let us know if your pet has a particular feeding and medication schedule—it's important that their daily routine remains unchanged.
Vaccines Required Before Cat and Dog Boarding
Dogs
Rabies
Distemper
Bordetella (kennel cough)