Spay and Neuter Services for Dogs and Cats in Waynesboro
We're passionate about helping pets spend as many years as possible with their families. As part of your pet's care, we recommend spaying or neutering for dogs and cats, which has the potential to lengthen their lifespan by a year or more. At Animal Hospital of Waynesboro, we hold that spay and neuter surgeries are essential for all pets. Along with the health benefits they provide, they also ensure fewer unexpected pregnancies and overcrowded animal shelters.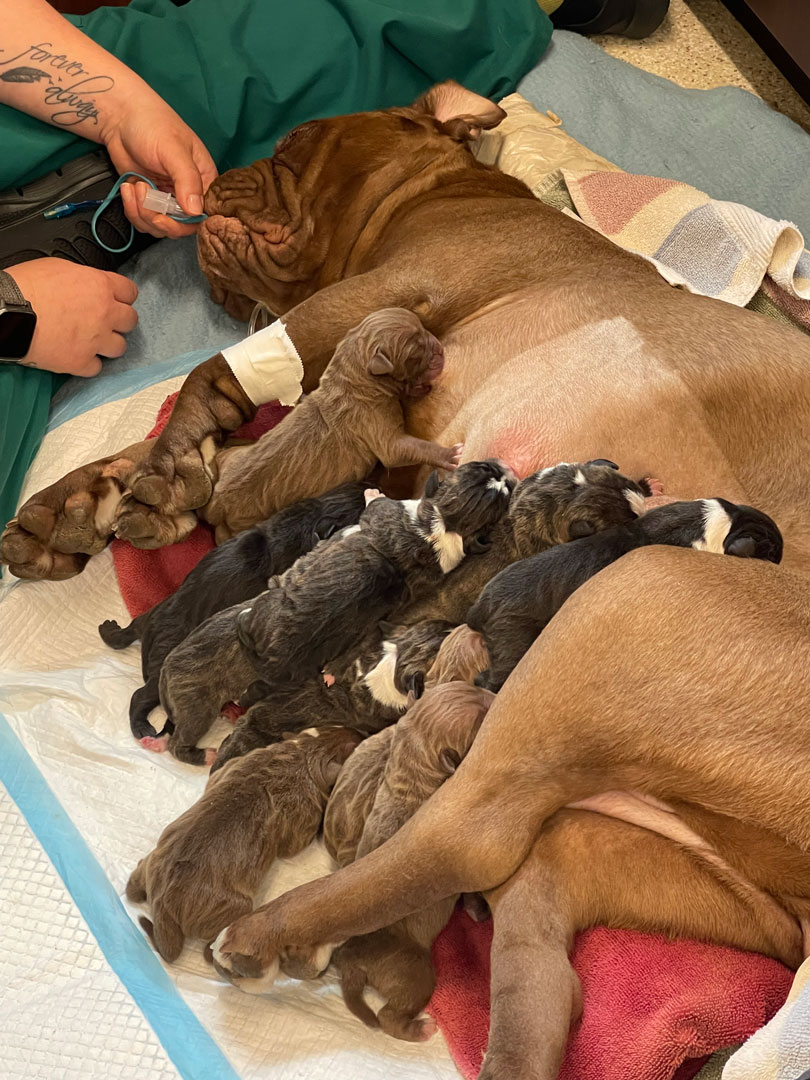 AHW is wonderful. The vets and staff are friendly and professional. The care our dogs receive is the best we've ever had. We wouldn't take them anywhere else. Thank you to everyone at AHW for all that you do!
- Martha 
Your team is great! So glad we have you in town.
- Mark 
Y'all are just the best! Your whole team is friendly, courteous, and helpful. Pros and cons are explained about possible treatments. Very pleased!
- Nancy 
Great visit, as always! Super efficient front desk staff, always so friendly…one of the reasons I love this animal hospital! Dr. Ward was excellent, I really enjoyed her thorough explanation of what was going on with my dog and her bedside manner. I left feeling calm and prepared!
- Victoria 
We are continually impressed with the level of care given to our pets. Any issue is addressed, every question is answered and we couldn't be happier with Dr. Reinhard and the support staff as well.
- Stefanie 
Great job as always! Dr. Lorenz, the receptionists, and the technicians are very helpful, caring, and friendly. Our senior pup, Abby, had some health issues this year, and she received the best care from Dr. Lorenz and his staff. Thank you for your excellent service!
- Barbara 
We have been a client for over 20 years and would not trust another veterinarian to take care of our pets. The team is the very best!
- Lianne 
Dr. Fulton and the whole staff are wonderful!
- Marilyn 
Everyone from the front desk to the vet technicians to the doctor were amazing! We love this practice and appreciate Dr. Lorenz and all the care he has given all our animals, past and present!!
- Mark 
Dr. Weeks has been absolutely amazing with our dog. The care she gave him went way beyond what I expected. I was surprised at the fact that she was the one to call and keep us informed about everything going on. I've never experienced that at any other vet. I have to say the cost of everything was very fair in my opinion. We would like to thank Dr. Weeks and the Animal Hospital of Waynesboro for everything.
- Troy 
This was the pups first visit to the clinic. They came highly recommended and didn't disappoint! The Dr was great and the tech took the two under her wing and showed them off to staff and others and even gave them a complimentary nail trim! I am really looking forward to becoming a long term client! Excellent!
- Tammi 
Best service and the most friendly people! Our doctor was awesome and our boy is happy and healthy!
- Jada 
Everyone at AHW is helpful and knowledgeable. I always feel my fur baby is getting the best care possible!
- Brenda 
Everything is so well coordinated from appointment reminders to check-in, to efficient and welcoming vet tech interaction, to expert and friendly vet consult, to bloodwork, to check out. Seamless. Just incredible considering relentless pandemic issues and weather. The folks at AHW really put their whole hearts into genuinely caring for pets and working as a highly coordinated team. Wow!
- Kathryn 
AHW is wonderful. The vets and staff are friendly and professional. The care our dogs receive is the best
we've ever had. We wouldn't take them anywhere else. Thank you to everyone at AHW for all that you
do!
- Martha
Spaying and Neutering Makes Life Better for Dogs and Cats
What kind of benefits can you expect after your pet has been spayed or neutered?
Spayed females cannot become pregnant or go into heat
They are less at risk for breast cancer
They will not be at risk for developing pyometra, a serious infection of the uterus
Females are also less likely to go roaming in search of a mate
Neutered males are less likely to become aggressive (due to lower testosterone levels), especially around females in heat
They are less at risk for prostate problems
They will not be at risk for testicular cancer
Males are also less likely to spray (cats) or mark their territory (dogs) in the house with strong-smelling urine
They are less likely to roam in search of a mate, which puts them at risk for getting attacked by another animal or getting hit by a car
Will My Pet Act Different?
Spaying and neutering have no effect on your pet's intelligence or personality. They can, however, reduce or eliminate certain behaviors associated with hormones and natural instincts. A highly energetic pet is not likely to become mellow and docile after their surgery, and vice versa.
How Soon Should My Dog or Cat Be Spayed or Neutered?
Your pet's health and development dictate when they should be spayed or neutered, which could be anywhere from 6 to 12 months old. While it is possible to spay and neuter dogs and cats that are well into adulthood, they are at a higher risk for surgical complications and diseases.
We would love to give you more information about how spaying and neutering can help pets. Just give us a call at (540) 943-3081.