Dog & Cat Teeth Cleaning in Waynesboro
Dental care is core to your pet's regular health routine. Like humans, dogs and cats can develop gingivitis, dental disease, and other problems due to poor oral hygiene. Fortunately, these conditions are preventable with dog and cat teeth cleaning and the right treatment. If you need help building a pet dental care plan, our Waynesboro team will give you a hand.
Talk to us about your pet's dental needs so they can stay dental disease-free.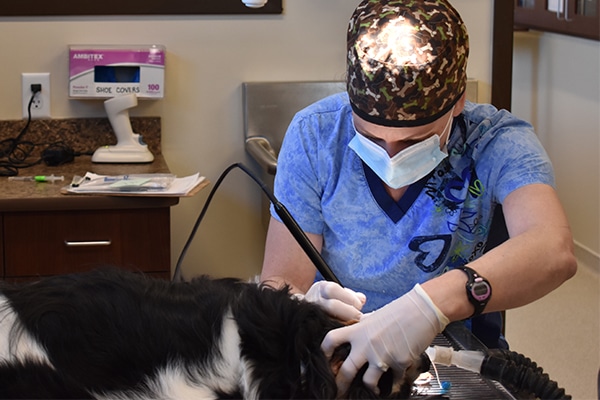 Great visit, as always! Super efficient front desk staff, always so friendly…one of the reasons I love this animal hospital! Dr. Ward was excellent, I really enjoyed her thorough explanation of what was going on with my dog and her bedside manner. I left feeling calm and prepared!
- Victoria 
Great job as always! Dr. Lorenz, the receptionists, and the technicians are very helpful, caring, and friendly. Our senior pup, Abby, had some health issues this year, and she received the best care from Dr. Lorenz and his staff. Thank you for your excellent service!
- Barbara 
Your team is great! So glad we have you in town.
- Mark 
We have been a client for over 20 years and would not trust another veterinarian to take care of our pets. The team is the very best!
- Lianne 
Everything is so well coordinated from appointment reminders to check-in, to efficient and welcoming vet tech interaction, to expert and friendly vet consult, to bloodwork, to check out. Seamless. Just incredible considering relentless pandemic issues and weather. The folks at AHW really put their whole hearts into genuinely caring for pets and working as a highly coordinated team. Wow!
- Kathryn 
Everyone from the front desk to the vet technicians to the doctor were amazing! We love this practice and appreciate Dr. Lorenz and all the care he has given all our animals, past and present!!
- Mark 
Y'all are just the best! Your whole team is friendly, courteous, and helpful. Pros and cons are explained about possible treatments. Very pleased!
- Nancy 
Everyone at AHW is helpful and knowledgeable. I always feel my fur baby is getting the best care possible!
- Brenda 
This was the pups first visit to the clinic. They came highly recommended and didn't disappoint! The Dr was great and the tech took the two under her wing and showed them off to staff and others and even gave them a complimentary nail trim! I am really looking forward to becoming a long term client! Excellent!
- Tammi 
Dr. Fulton and the whole staff are wonderful!
- Marilyn 
Best service and the most friendly people! Our doctor was awesome and our boy is happy and healthy!
- Jada 
Dr. Weeks has been absolutely amazing with our dog. The care she gave him went way beyond what I expected. I was surprised at the fact that she was the one to call and keep us informed about everything going on. I've never experienced that at any other vet. I have to say the cost of everything was very fair in my opinion. We would like to thank Dr. Weeks and the Animal Hospital of Waynesboro for everything.
- Troy 
We are continually impressed with the level of care given to our pets. Any issue is addressed, every question is answered and we couldn't be happier with Dr. Reinhard and the support staff as well.
- Stefanie 
AHW is wonderful. The vets and staff are friendly and professional. The care our dogs receive is the best
we've ever had. We wouldn't take them anywhere else. Thank you to everyone at AHW for all that you
do!
- Martha
AHW is wonderful. The vets and staff are friendly and professional. The care our dogs receive is the best we've ever had. We wouldn't take them anywhere else. Thank you to everyone at AHW for all that you do!
- Martha 
Is Your Pet in Urgent Need of Dental Treatment?
Understanding your pet's health can be hard, especially when they show few signs of a problem. However, there are things you can look for to determine if medical intervention is needed.
These include:
Swollen red gums
Yellow/brown residue stuck to the teeth
Bad breath
Drooling more than normal
Having trouble holding onto food
Loose teeth
Less active, sleeping more often
Swelling around eyes/muzzle
Strong resistance to having face/mouth handled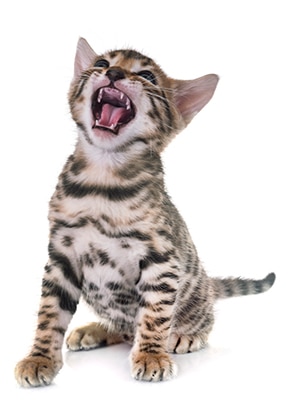 Our Professional Dog & Cat Teeth Cleaning Services
Even pets need a visit to the dentist from time to time. When calculus forms on your pet's teeth, it is impossible to remove without the efforts of an experienced veterinarian and veterinary technician. At Animal Hospital of Waynesboro, we:
Examine your pet's teeth and gums thoroughly while they are under general anesthesia
Take dental X-rays of your pet's mouth to check for signs of dental disease, bone loss, and more
Use a hand scaler and an ultrasonic scaler to remove stubborn calculus that has formed above and below the gum line
Polish the enamel surfaces smooth
Extract teeth and perform other minor oral surgeries if necessary
Send clients home with dental care kits and a dental report card so they can stay on top of their pet's dental needs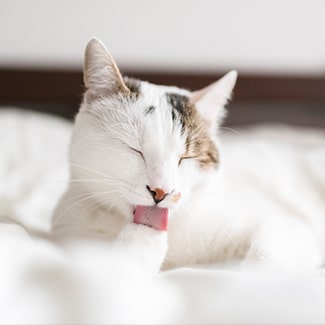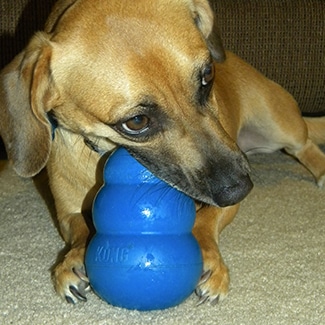 Include Teeth Cleaning in Your Pet's Daily Routine
Routine teeth cleaning is the best care. Your pet becomes accustomed to the daily treatments you provide, which improves their health and increases the time between cleaning procedures. Removing plaque before it has time to harden can save your pet from painful gum infections and the potential for tooth decay, or larger systemic problems.